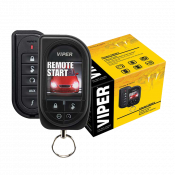 Viper 5906VR 2-Way OLED Colour Security with Remote Start
The Viper 5906VR Responder HD features Viper's most advanced colour remote, up to a 1.5km operating range, 2-Way security and remote start system with an upgraded user interface, mini-USB charging port and patented menu wheel. No effort has been spared by the Viper development team to create the ultimate colour keychain remote control.
Overview
The Viper 5906VR Responder HD features Viper's most advanced colour remote, up to 1.5km operating range, 2-Way security and remote start system with an upgraded user interface, mini-USB charging port and patented menu wheel. No effort has been spared by the Viper development team to create the ultimate colour keychain remote control, operating Viper's top-of-the-line vehicle security and remote start system.
The result is Viper's 5906VR Responder HD, winner of the coveted CES Innovations Award. Some of the milestones achieved by our team include:
Viper's first 1.5km range colour remote, using 900 MHz Spread Spectrum Technology (SST)
A brand new user interface, for the first time utilising the patented Viper Menu Wheel
New custom Viper animations to confirm user commands and illustrate system events, on a 128 x 128 pixel Organic Light Emitting Diode (OLED) high contrast panel, with 262K and 65K full colours, and a wide 160° viewing angle, employing an anti-glare polariser for enhanced daylight visibility
The OLED display panel on the Viper 5906VR Responder HD colour remote is 20% larger than previous LCD panels on a keychain remote
Viper has created a sophisticated and complex remote control that is more intuitive than competing security products. It walks the new user through the system operation on-screen while delivering tonnes of real-time information for the power user. Viper has completely re-thought the manual layouts so users can play with the remote, and if something unexpected occurs or attracts their interest, they can easily find a quick and simple explanation with references to as much detail as they want.
Built-in Info Centre: the 5906VR Responder HD status screen has an information centre built into it! The Info Centre displays the remote start run-time remaining before the engine shuts off, as well as the vehicle interior temperature, so you know if your car has warmed up or cooled off enough to make your drive comfortable. It also displays the Countdown and Parking Meter timers when running, and the Parking meter timer emits warnings at 15 minutes, 5 minutes and at expiration so you can make sure to feed the meter. You can also stop, start or clear the timers at any time in the Status Screen using the Menu Wheel. These 4 useful pieces of information can be displayed in the Info Centre by pressing the menu wheel while the Status screen is active to toggle and show each one.
Two Car operations: when users decide to change to a paired 2nd vehicle, 5906VR Responder HD will automatically check the vehicle's availability, and if the desired car is not available it will let you know. If the vehicle is available, it will automatically update the information displayed on the status screen so you know if it needs to be disarmed, or if the engine is running.
Security system Sensor Status in real-time: when arming with a security zone active, 5906VR Responder HD will receive a report that will identify by name the active zone and display a special icon in the Status Screen. The report will identify all zones that are active (up to 7) by name during the report output.
New Feature: For the first time, 5906VR Responder HD reports any sensors that have been bypassed by the Nuisance Prevention Circuitry (NPC™) feature when arming and have a special Sensor Status icon that is displayed in the Status Screen. Any time there is a change of status in the sensors (NPC or a bypassed zone resets,) 5906VR Responder HD will receive a message from the system and the All Zones OK icon will be displayed.
Sensor Bypass: users can bypass sensors by selecting the level and sensors they wish to bypass. 5906VR Responder HD will identify the bypassed sensors on-screen and by name so the user knows exactly the level of security they have chosen. After bypassing sensors, the Sensor Status icon will be updated so the user can easily see those sensors are bypassed each time the Status Screen is displayed.
Remote start Fault and Not Available reporting: if the user attempts to operate a security or remote start feature that is not available, 5906VR Responder HD will identify the fault so it can be quickly resolved.
The intended use and user value of Viper's 5906VR Responder HD constitutes nothing less than a new higher level of connection between drivers and their vehicles. From up to 1.5km distance from their vehicle, users can stay in constant contact using an advanced and elegant, full-colour interface device: their 5906VR Responder HD keychain remote.


Glossary of Terms
The following terms are listed to assist you in defining the technologies your selected Viper system includes. Please note, not all Viper systems feature all of the following technologies, these descriptions are provided as a glossary of various Viper technologies for reference only.
REMOTE CONFIRMATION:
2-Way remotes let you stay in touch with your vehicle, confirming your commands (such as remote start, or arming your security system) either with an LCD screen on the remote, or using LED lights. Some 2-Way remotes also act as a security pager, letting you know your siren has been triggered, even if you are too far away to hear it.
REMOTES
The number and type of remotes that come with the system.
RANGE
Viper systems use Radio Frequency (RF) technologies to communicate with your vehicle, and these technologies each have a typical operating range. Range varies by the technology used, but also because of environmental factors such as interference from other RF sources. Currently Viper systems with the longest range use Spread Spectrum Technology (SST) with range up to 1.5km.
REMOTE START
Remote Start allows you to start your engine by remote control, allowing your vehicle's climate control system to warm up or cool down the cabin before you get in. Range is important with remote start (your vehicle might be parked down the street, or at the far end of a parking lot) and 2-Way remote start systems are preferred (because they confirm that your vehicle has started.)
KEYLESS ENTRY
Unlock your vehicle's doors with the push of a button on your keychain remote.
BOOT POP
Viper systems with Boot Pop can open your power boot with the push of a button.
SMARTSTART COMPATIBLE
A Viper SmartStart module can be added to this system to make your vehicle SmartStart ready.
ENCRYPTION
Clone-safe, anti-Code Grabbing technology comes standard on every Viper system.
DOMELIGHT SUPERVISION
A great safety feature: illuminates your vehicle's dome light for 30 seconds when you disarm your security system or unlock the doors of your remote start system.
STINGER DOUBLEGUARD SHOCK SENSOR
Each Viper security system comes standard with the dual stage Stinger DoubleGuard shock sensor, which detects blows or impacts to the vehicle and can discriminate light impacts from heavy ones.
Failsafe Starter Kill Keep your car where you parked it with the Failsafe Starter Kill, an immobilizer designed to prevent hot-wiring.
ANTI-CARJACKING ALSO REFERRED TO AS VRS
VRS is a user-operated anti-carjacking system. Once activated, if your vehicle is carjacked, 30 seconds later the siren will start screaming for help and the lights will flash. When the carjacker pulls over and turns off the ignition, the starter kill will activate, which should prompt the carjacker to then abandon your vehicle for eventual recovery.
# OF AUXILIARY CHANNELS
Auxiliary channels are electrical outputs controlled by your keychain remote, which your installer can interface with systems in your car to allow you to operate them by remote control.
Product Technology