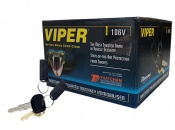 Viper 106V Touch Key Immobiliser with Black Wire and Australian Standards Approved
The Viper 106V is an AS/NZS Certified System designed to be an affordable means to meet insurance requirements. This unit features an all black wiring harness with a three point immobiliser.
Overview
Although this type of system does not operate central locking it is conveniently disarmed via security coded key chain tags touched to a receiver mount located in the vehicle. It comes with a flashing LED to deter vehicle break in and theft and comes completely encased in a metal durable security housing for added security.With LIFETIME warranty the Viper 106V is the quite, easy, convenient and safe way to meet all your security requirements at the right price.
Features
Includes 2 x Security Coded Touch Key Tags
Touch Key Receiver - Flush or Surface Mountable
3 Point Immobilisation
All Black Wires
High Capacity Relays
Metal Security Housing
AS/NZS Certified
Window Decals