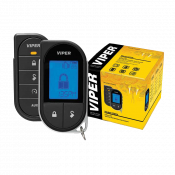 Viper 5706VR Responder 2-Way LCD Security with Remote Start
5706VR Responder LC3 is Vipers' the 3rd generation of Responder systems complete with SST remote. Up to 1.5km operating range, new Priority icons and text seen on a 20% larger liquid-crystal display, an on-board lithium-ion rechargeable battery with mini-USB recharging – all in the slimmest display remote on the market.
Overview
5706VR Responder LC3 is Vipers' the 3rd generation of Responder systems complete with SST remote. Up to 1.5km operating range, new Priority icons and text seen on a 20% larger liquid-crystal display, an on-board lithium-ion rechargeable battery with mini-USB recharging – all in the slimmest display remote on the market.
Combining the best features of Responder with all the "New Technology Platform" advances introduced with the CES Best of Innovations Award-winning Responder LE, Responder LC3 systems come with one 2-Way LC3 SST 1.5km range remote and a companion 1-way long range remote.
5706VR Responder LC3 lets you command and monitor your vehicle like never before, with our Priority icons – simple and prioritised for easy use - plus clear text labels on the large LCD screen. With the Priority™ User Interface, the five buttons control 24 functions on each of two cars! And with the Priority Icon Map™, the most important icons reside in the centre of the large LCD screen, 3 times larger than the less-critical icons positioned on the edges of the screen. It's undeniably the most sophisticated 1.5km range LCD remote ever!
In remote start mode, if Active Temp Check is selected, 5706VR Responder LC3 will display Temperature (in either Fahrenheit or Celsius) instead of the time (the default display). Now you can see the actual temperature inside the vehicle, before walking through the weather to get to it! If it isn't warm enough inside your car yet, use Runtime Reset to extend your runtime. Don't worry about forgetting about your car – 5706VR Responder LC3 reminds you 3 minutes before your time runs out, with an audible tone, a vibration, and on the screen.
If anything happens to your vehicle, 5706VR Responder LC3 notifies you right away if you are within range, playing the Revenger siren tones from inside your pocket. If anything has happened to your vehicle during your absence, LC3 spells out what happened when you unlock your doors: "Shock Sensor" for example.
Or you can silence your car's siren and only be alerted on your remote, with Silent Mode2 siren-less arming. Arm your alarm with the door open and 5706VR Responder LC3 will alert you – audibly and with large readable text: "DOOR OPEN". 5706VR Responder LC3 gives you an unprecedented level of control.
Only the important icons are displayed - unused icons disappear from the screen to keep the display clean and simple. "Ghosted" icons – outlined icons only without their typical solid body - indicate that you've changed something. For instance, while a solid padlock icon shows your alarm is armed and your doors are locked, an outlined padlock indicates your doors are locked in Valet Mode. The words "Valet Mode" appear to make sure you're clear on the status of your car.
Some of the many New Technology Platform features incorporated into the system include:
D2D Serial Data Port – Gives installers plug-and-play connection to all the other XPRESSKIT interfaces
Virtual Tach – No tachometer wire connection required
Flex Relays On-board for Remote Start and Light Flash – eliminates the need for additional relays 80% of the time
Control Centre – combines the Status LED and Valet Switch with the 2-way Antenna, making the switch easy to locate, and eliminating drilling of any holes in the dash
Priority User Interface and Features – including SmartStart™, Timer Start, Runtime Reset, TempCheck and Silent Mode2 siren-less arming modes
Stay in touch with your vehicle at all times with Responder LC3!


Glossary of Terms
The following terms are listed to assist you in defining the technologies your selected Viper system includes. Please note, not all Viper systems feature all of the following technologies, these descriptions are provided as a glossary of various Viper technologies for reference only.
REMOTE CONFIRMATION:
2-Way remotes let you stay in touch with your vehicle, confirming your commands (such as remote start, or arming your security system) either with an LCD screen on the remote, or using LED lights. Some 2-Way remotes also act as a security pager, letting you know your siren has been triggered, even if you are too far away to hear it.
REMOTES
The number and type of remotes that come with the system.
RANGE
Viper systems use Radio Frequency (RF) technologies to communicate with your vehicle, and these technologies each have a typical operating range. Range varies by the technology used, but also because of environmental factors such as interference from other RF sources. Currently Viper systems with the longest range use Spread Spectrum Technology (SST) with range up to 1.5km.
REMOTE START
Remote Start allows you to start your engine by remote control, allowing your vehicle's climate control system to warm up or cool down the cabin before you get in. Range is important with remote start (your vehicle might be parked down the street, or at the far end of a parking lot) and 2-Way remote start systems are preferred (because they confirm that your vehicle has started.)
KEYLESS ENTRY
Unlock your vehicle's doors with the push of a button on your keychain remote.
BOOT POP
Viper systems with Boot Pop can open your power boot with the push of a button.
SMARTSTART COMPATIBLE
A Viper SmartStart module can be added to this system to make your vehicle SmartStart ready.
ENCRYPTION
Clone-safe, anti-Code Grabbing technology comes standard on every Viper system.
DOMELIGHT SUPERVISION
A great safety feature: illuminates your vehicle's dome light for 30 seconds when you disarm your security system or unlock the doors of your remote start system.
STINGER DOUBLEGUARD SHOCK SENSOR
Each Viper security system comes standard with the dual stage Stinger DoubleGuard shock sensor, which detects blows or impacts to the vehicle and can discriminate light impacts from heavy ones.
Failsafe Starter Kill Keep your car where you parked it with the Failsafe Starter Kill, an immobilizer designed to prevent hot-wiring.
ANTI-CARJACKING ALSO REFERRED TO AS VRS
VRS is a user-operated anti-carjacking system. Once activated, if your vehicle is carjacked, 30 seconds later the siren will start screaming for help and the lights will flash. When the carjacker pulls over and turns off the ignition, the starter kill will activate, which should prompt the carjacker to then abandon your vehicle for eventual recovery.
# OF AUXILIARY CHANNELS
Auxiliary channels are electrical outputs controlled by your keychain remote, which your installer can interface with systems in your car to allow you to operate them by remote control.
Product Technology