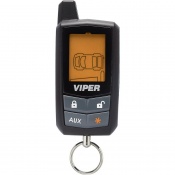 Viper 7345V Responder LCD Remote
Viper's 7345V remote works with with the Viper 3305 car security system, allowing you to replace a lost or damaged remote.
Overview
Viper's 7345V remote control offers 2-way communication with Viper's 3305 car security system. The 7345V's LCD display shows you confirmation of any commands you've given the alarm, and will also prompt you to any alerts that the alarm generates. The 4-button design lets you arm and disarm the system, lock and unlock the doors, activate an auxiliary output, and access a "panic" button.
This CES Innovations Award-winning, 15 channel SHF transmitter offers Viper's highest level of Super Code Hopping™ security, with 2/66 (18 quintillion) rolling codes!
The Viper 7345V comes with batteries and has a range of up to 450 metres.
Features:
LCD display for alerts and command confirmations
4-button design
Compatible with the following Viper Systems: