SmartStart GPS VSM250i



---
What's new in Viper SmartStart 3.0?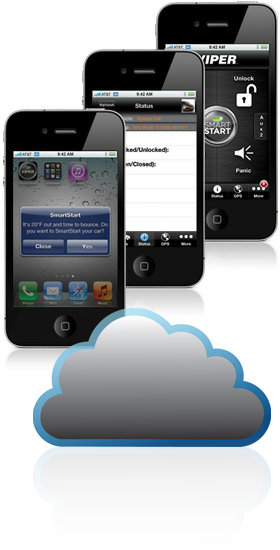 Introducing the Cloud-Connected Car with features like:

SmartSchedule
Part weatherman, part mind reader.

Vehicle Status
Know when your vehicle is running, armed, locked and more.

Auxiliary Channels
Customize your SmartStart experience. Control windows and more.

Bluetooth Technology
New, low-cost solution for controlling your car with your smartphone.

Power User Mode
Get to the Viper SmartStart home screen even faster.

Vehicle Diagnostics*
Know the health of your car from the cloud. DTC codes, right on your smartphone. (* for some vehicles)

D2D Functionality
Giving installers new easy install options and innovative features.
---
What is Viper SmartStart?
Now you can control, track, locate and start your car from almost anywhere with your smartphone using the SmartStart App from Viper, the global leader in vehicle control, security and remote start systems. The simple graphical interface gives you control over the following features of your installed Viper remote start or security with remote start system:
Lock / Arm
Unlock / Disarm
Remote Car Starter
Boot Release
Panic
Aux Channels
You can also control multiple vehicles – great for families! – and assign more than one user to control a vehicle. It's easy with SmartStart!
But, this is only the beginning! Viper SmartStart is loaded with additional features including GPS tracking, SmartSchedule, vehicle status, parked car finder and more.
3.0 enables a "Cloud-Connected Car" like never before, providing an entirely new level of 2-way interaction with your vehicle. Connectivity is managed through the Directed Cloud Services (DCS) network linking car, app, end user, and the Internet.
---
What are the requirements for Viper SmartStart?
A compatible iOS, Android or BlackBerry device.
The Viper SmartStart app - downloaded to your device.
A complete Viper SmartStart system, or a Viper SmartStart module added to a compatible Viper remote start or security with remote start system.
A Viper SmartStart service plan.
iOS: iPhone, iPad, iPod Touch.
Android: SDK 1.6 or newer.
BlackBerry: OS 4.5 to 6.
SmartStart GPS is not available on BlackBerry devices at this time.
Windows Phone.
---
Apple, the Apple logo, iPod, iPod Touch, and iTunes are trademarks of Apple Inc.
Android is a trademark of Google Inc. Use of this trademark is subject to Google Permissions.
The Trademark Blackberry is owned by Research in Motion Limited.